Heavy Insulated Heating Tape(350°C)
"TEMPO" make Heating Tapes are ready to use, wrap around flexible heating elements for heating cylindrical vessels, pipes etc. can be easily installed, removed and used again.
• Lead Wires on one end
• Spiral Heating Element design to give better
temperature uniformity.
• Heavy Braided Fibre Glass Outer Cover..
• Robust & Flexible Element.
• Lower Watt Density, enhancing longer life through better distribution of heat. (Lower
watts per cm of wire)
• 25mm wide tapes may be easily applied todiameters as small as 12mm.
• Temperature controller system (Digital /Thermostatic) can be provided for display,
monitoring and safe operation.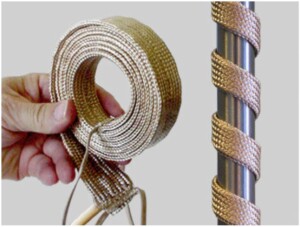 Models & Optional Features
HEATING TAPE – HIGH WATT DENSITY
| TYPE NO |  (Width x Length) mm | Wattage | Voltage |
| --- | --- | --- | --- |
| TI-681-HIT-H2 | 25mm x 600mm | 310 | 230 |
| TI-681-HIT-H4 | 25mm x 1200mm | 620 | 230 |
| TI-681-HIT-H6 | 25mm x 1800mm | 930 | 230 |
| TI-682-HIT-H2 | 25mm x 600mm | 310 | 110 |
| TI-682-HIT-H4 | 25mm x 1200mm | 620 | 110 |
| TI-682-HIT-H6 | 25mm x 1800mm | 930 | 110 |
HEATING TAPE – MEDIUM WATT DENSITY
| Type No. | (Width x Length)mm | Wattage | Voltage |
| --- | --- | --- | --- |
| TI-681-HIT-M2 | 25mm x 600mm | 210 | 230 |
| TI-681-HIT-M4 | 25mm x 1200mm | 420 | 230 |
| TI-681-HIT-M6 | 25mm x 1800mm | 630 | 230 |
| TI-682-HIT-M2 | 25mm x 600mm | 210 | 110 |
| TI-682-HIT-M4 | 25mm x 1200mm | 420 | 110 |
| TI-682-HIT-M6 | 25mm x 1800mm | 630 | 110 |
HEATING TAPE – LOW WATT DENSITY
| Type No. | (Width x Length)mm | Wattage | Voltage |
| --- | --- | --- | --- |
| TI-681-HIT-L2 | 25mm x 600mm | 80 | 230 |
| TI-681-HIT-L4 | 25mm x 1200mm | 160 | 230 |
| TI-681-HIT-L6 | 25mm x 1800mm | 230 | 230 |
| TI-682-HIT-L2 | 25mm x 600mm | 80 | 110 |
| TI-682-HIT-L4 | 25mm x 1200mm | 160 | 110 |
| TI-682-HIT-L6 | 25mm x 1800mm | 230 | 110 |