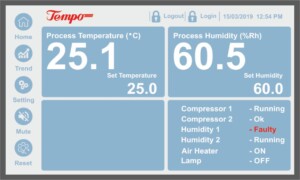 PLC Features:
Auto tune logic controlling of Temperature & Humidity.
Multiple Scanner system.
Auto changeover of Refrigeration system – In case Main refrigeration system fails or Routine changeover as per set period.
Auto changeover of Humidity system – In case Main Humidity system fails.
Auto changeover of Temperature & Humidity sensor in case of sensor failure.
Safety system to protect overshoot & undershoot of Temperature & Humidity.
Software communication through Ethernet (Lan Connectivity).
7 inch Color Touch screen graphic LCD display.
Alarms –
Temperature Overshoot or Undershoot
Humidity Overshoot or Undershoot
Sensor failure.
Low Water level
Power Failure
Thermostat high temperature cutoff
Refrigeration system failure
Humidity system failure
Emergency Stop
Door open for more than set time
Main Contactor failure
Events-
Temperature Set value changes
Humidity Set value changes
Temperature alarm limit changes
Humidity alarm limit changes
Door open & closed time
Refrigeration system change over
Humidity system change over
Online Printer Connectivity.
Audit Report generated with all activities Performed on HMI Display.
Password protected Set value change.
Multiple User Creation With 3 User Groups Admin/Supervisor/Users.
All settings are password protected.
Create up to 50 users with different password.
PLC based password protected Door Access system.
SMS / Email Alerts-
Temperature High & Low
Humidity High & Low
Power Failure
Thermostat cut off.
Refrigeration System faulty
Humidity System faulty
Low water level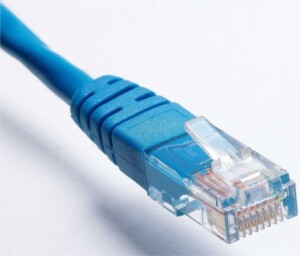 21 CFR Part 11 Software Features:
Ethernet based Communication Software with PLC.
Multiple Instrument connectivity.
Logger report in Tabular & Graph format.
Scanner report in Tabular & Graph format.
Audit report for HMI & Software activates.
Alarm & Event Report.
Export all report in PDF format only.
All report views as per user required duration.
Set point change through software.
Multiple User Creation With 3 User Groups Admin/Supervisor/Users.
Alpha Numeric Password with min 8 character.
Auto Password Expiry.
User account locking in case of 3 unsuccessful attempt(Wrong Password )
Auto Log out if no activity done.
Auto & manual backup facility.
Backup & Restore facility.
MKT calculations.
Printing on Local or network printer.