Standard Insulated Heating Tape(350°C)
These Tapes are recommended for use on non-conductive surfaces such as glass or ceramic. (Not recommended for Conductive surfaces such as metal etc)
"TEMPO" make Heating Tapes are ready to use, wrap around flexible heating elements for heating cylindrical vessels, pipes etc. can be easily installed, removed and used again.
• Lead Wires on one end
• Spiral Heating Element design to give better
temperature uniformity.
• Robust & Flexible Element.
• Lower Watt Density, enhancing longer life through better distribution of heat. (Lower
watts per cm of wire)
• 25mm wide tapes may be easily applied to diameters as small as 12mm.
• Temperature controller system (Digital /Thermostatic) can be provided for display,
monitoring and safe operation.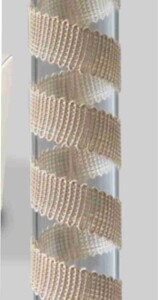 Models & Optional Features
HEATING TAPE – MEDIUM WATT DENSITY
| Type No. | (Width x Length)mm | Wattage | Voltage |
| --- | --- | --- | --- |
| TI-681-SIT-M2 | 25mm x 600mm | 210 | 230 |
| TI-681-SIT-M4 | 25mm x 1200mm | 420 | 230 |
| TI-681-SIT-M6 | 25mm x 1800mm | 630 | 230 |
| TI-682-SIT-M2 | 25mm x 600mm | 210 | 110 |
| TI-682-SIT-M4 | 25mm x 1200mm | 420 | 110 |
| TI-682-SIT-M6 | 25mm x 1800mm | 630 | 110 |
HEATING TAPE – LOW WATT DENSITY
| Type No. | (Width x Length)mm | Wattage | Voltage |
| --- | --- | --- | --- |
| TI-681-SIT-L2 | 25mm x 600mm | 80 | 230 |
| TI-681-SIT-L4 | 25mm x 1200mm | 160 | 230 |
| TI-681-SIT-L6 | 25mm x 1800mm | 230 | 230 |
| TI-682-SIT-L2 | 25mm x 600mm | 80 | 110 |
| TI-682-SIT-L4 | 25mm x 1200mm | 160 | 110 |
| TI-682-HIT-L6 | 25mm x 1800mm | 230 | 110 |